I have a taken some photos of Aimee's room walls, but I have
edited
them to be one big photo than a lot of smaller ones!!! The fairy stickers are on the walls that don't have wallpaper or the wardrobe (obviously,
lol
). They are about chest high on me, I have tried to keep them in a wavy line the same height as the lighter panels in the wardrobe!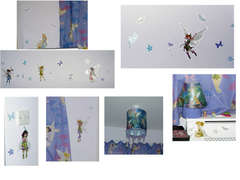 This is the wardrobe, I will have to ask DH if I can borrow his wide angle
lenses
and then I might be able to get a good shot of it! The wardrobe is floor to ceiling and has sliding doors! We don't have any shelves or clothes rails in yet, soon!!!
LOL
TFL
XXXX