Today DH got treated to some pressies
A football shirt - Liverpool of course
A voucher for PC World (Computer shop)
and a CD/DVD case a hint for him to tidy up all the cds/dvds that are all over the place lol!!!
I didn't make him a card this year instead I made this layout!!!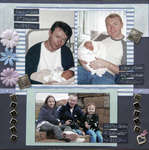 To see more info on this page click
here
!
Dh doesn't like me talking too much about him on my blog, so all I am going to say, is

I LOVE THIS MAN AND I AM SO HAPPY THAT IS THE FATHER TO MY GIRLS!!!!!
TFL
xxxx